Hi folks! Having a bit of trouble with a royal icing tiara. I have piped the design on a wax paper template and then re-piped to add thickness. Both the single pipe and double pipe have shattered into small pieces. What am I doing wrong? Any suggestions would be appreciated. TIA
There is a tutorial on this, on CC from home page..look under tutorial listing and follow directions very carefully..I did a couple and I put like 3-4 layers of icing instead of just 2 and I let it dry for a few days AFTER final layer. I made 2 of them..yes it's work, but in case one broke..and if you make just ONE and it breaks in 1 spot, you can fix it, but not if broke all over. You have to crucially dry it for like at least min. 3 days to be really safe and you have to be very, very careful pulling from waxed paper..

HOnestly..I think I'm done using RI for tiara's anymore b/c it hurt my hand after so much squeezing so for now on, I'm going to do the gumpaste tiara's and shine it up! It's up to you..

Best of luck
I have two in my gallery that I've done successfully if you want to look. Both are airbrushed.

Are you piping in dots, or lines? I found that if you just pipe dots, it will break easier. If you like the look of the "beads" you can pipe it in lines and go over that in dots. Make as many points as you can, touch. Use parchment paper instead of wax. It slides off when it's dry. Also, be patient and let it dry. It might feel dry to you, but wait 2-3 days after your final layer to try and remove from the paper. You shouldn't have to peel. It should literally just slide off of the container. I also use a 4 or 5 tip, depending on the design. Some I can't use the 5 with because it's too thick. The thinner the tip, the more fragile it will be. And of course, be UBER gentle with it. You should be able to handle it without it breaking but be careful.

Oh and it shouldn't hurt your hand. If it does, your RI might be too thick. You hand might be tired but it shouldn't hurt.

The most important thing is time. Let it dry for 2-3 days minimum. Good luck!!
I've only made tiaras one time but here's how I did it. I used a simple, standard RI recipe but made it much thicker that it called for (not thick enough to hurt my hand though). I then used 4 layers of piping over the design. I agree that the drying time is crucial and should be a minimum of 3 days. They were fragile, yes, but in the end I made 3 and none of them broke. Good Luck!
Thank you all for the tips! The dry time appears to be why my tiaras fell apart! I will heed your advice and give it another go.
I only make them one way now. They get rave reviews from clients and I don't worry about the breaking, cracking etc.. use a 50/50 mix of gumpaste and fondant and a very large lace mold . Mold and then leave to dry draped over parchment and a plastic crisco or smaller coffee can. After at the very least 4 days you can begin to decorate and embellish with royal icing or anything else you like. Works for me


Deborah
whitelacecakes.com[/img]
Oh thank you for the tip! I will give that a try, sounds way easier then piping!!
i recently made my first tiara and i was between royal icing and gumpaste, but after reading a lot of horror stories i decided to go with gumpaste and was really pleased!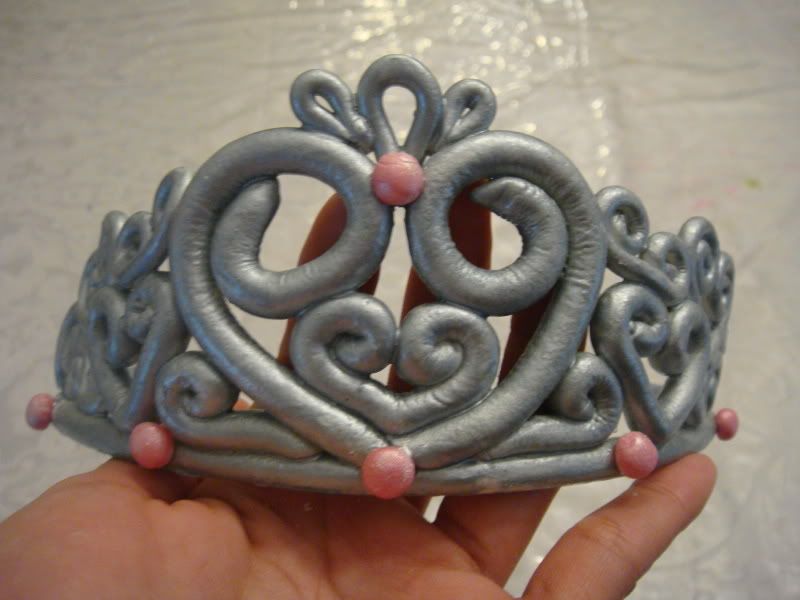 If you are open to switching to gumpaste, I've found it to be much easier than the royal icing tiara. I have 3 tiara cakes in my photos and I used the tiara template by "missyek" here on CC as a general guide. I also got some very good ideas from a youtube video that helped me a lot.

This is the link for the youtube video if you might be interested in going with gumpaste as opposed to royal icing.






;feature=related

This is the latest tiara I made using the above guidelines.
http://cakecentral.com/gallery/2053177/2053189

Hope this might be of some help...
Good luck with your tiara.
Does anybody have a template for a RI tiara?
I have done one of each (pic's) rubbing a little shortening onto your wax paper really helps with release once it is dried. with royal icing you can start with tip #3 and second layer #2 for strength. I must say I prefer the gumpaste tiara over royal. I used and extruder and it was a breeze to make. Good Luck!!! Patterns are easy to create using cutters (hearts,flowers etc. make on side fold paper and trace onto the other side so they are exactly same.
Nikki1083 there are templates on this website in the gallery under Miscellaneous. I made one recently and I found the template on Nick.jr for an Olivia cake I want to make. I used royal and it turned out pretty good, there's a pic in my gallery.
I am in the process of making a RI tiara right now. I read the tutorial on this site in the articles section and the only real difference is that I used tips #2 and 4 instead of 2 and 3. I started it last weekend to make sure I took my time and didn't cut any corners.

I have done 3 (4 in some places) layers. Each layer I did I touched up the line every time I stopped with a moist brush (tamped down points and straightened any rogue areas). With the 2nd layer, each line was tamped down with a moist brush to not only straighten and remove points, but also slightly blend the new layer to the dried one below it so there were less obvious seams.

Also, instead of only waiting a couple of hours between layers, I waited at least 16 hours. My last layer was done on Wednesday night and I plan to attach pearls, brush on color/dust this weekend...all before I take it off of the paper, just to be safe.

I don't need it until the 16th, so I wanted to make a really sturdy (hopefully) one and then work on a backup throughout this next week. Fingers crossed!
Ok, I've read many threads on RI tiaras, haven't seen this mentioned.  Parchment rather than saran wrap?  And can you pipe it flat and then place it on round form?
THANKS!
One question please, why 50/50 and not only gumpaste?
Thank you for the response
A
Original message sent by Linda2010
One question please, why 50/50 and not only gumpaste? Thank you for the response
gumpaste dries very quickly. Using 50/50 gives you more time to work as the mixture doesn't dry as fast