Since I am unable to purchase Bettercreme...I came across these recipes which are suppose to be close from recipelink.com

Mock Whipped Cream Frosting with Cocoa Variation

3/4 c. milk
3 tbsp. flour
6 tbsp. butter
6 tbsp. shortening
3/4 c. sugar
1 1/2 tsp. vanilla
1/4 tsp. salt

Cook milk and flour until thick. Cool. Beat butter, shortening, and sugar for 4 minutes in a bowl. Add flour and milk mixture. Beat 4 minutes. Add vanilla and salt.

CHOCOLATE VARIATION: Add 3 tablespoons cocoa.

Chocolate Mock Whipped Cream Frosting

1 stick (1/2 cup) margarine
1/2 c. sugar
1 tsp. vanilla
1 env. (1 oz) semi-sweet chocolate or 4 tbsp. cocoa
1/2 c. milk
2 tbsp. flour

In bowl mix margarine, sugar, vanilla, and chocolate or cocoa. In pan, mix milk and flour mixture and cook on low until thick. Cool in refrigerator. When flour mixture is cool, mix with chocolate mixture and beat until smooth.

Orange Mock Whipped Cream Frosting

3 c. sugar
1 1/2 tbsp. flour
1/4 tsp. salt
Grated rind of 1/2 orange
2 1/2 tbsp. fresh lemon juice
1/4 c. fresh orange juice
1 egg, slightly beaten
1 tbsp. oleo or butter
1 c. whipping cream

Cook together all but oleo and cream. Cook over hot water. Stir frequently. When thick, add oleo. Cool. Whip cream until stiff. Fold cooled orange filling into cream. Spread on carrot cake. Better if made day before. Must be refrigerated. Can be frozen.

Lemon Mock Whipped Cream Frosting

1 c. milk
5 tbsp. flour
1 1/4 c. sugar
1 c. shortening
1 tsp. lemon extract
1 tsp. vanilla

Shake in shaker milk and flour until smooth. Cook mixture over medium heat, stirring constantly until smooth and creamy. Let cool. Beat sugar, shortening and extracts until creamy. Add to cooled mixture. Beat on high until sugar has dissolved and mixture is smooth and creamy.

Mock Whipped Cream Frosting with Variations

5 tbsp. flour
1 c. milk

Put above ingredients in a blender until completely mixed or mix with a whisk, but it must be completely blended. Put into a small pot and cook over low heat until the consistency of pudding. COVER AND COOL COMPLETELY. Set aside, then:

1/2 c. butter or margarine
1/2 c. Crisco shortening
1 c. granulated sugar
1 tsp. vanilla

Cream together 1/2 cup of shortening and 1/2 cup of butter or margarine until light and fluffy. To that add 1 cup granulated sugar a little at a time and beat until the sugar is dissolved. THIS MAY TAKE AS LONG AS TEN MINUTES - BE PATIENT. When dissolved or near to being dissolved, add the cooled flour mixture and beat until fluffy, then add vanilla.

NOTE: Other flavors may be substituted for the vanilla. Also, liquid chocolate or cocoa may be added. If you like color it takes food coloring beautifully.

Mock Whipped Cream Frosting with Pudding Mix

4 tbsp. flour
1 c. milk
1/2 c. margarine
1/2 c. shortening
1 c. sugar
2 tbsp. vanilla
2 tbsp. instant pudding mix (any flavor desired)
1/2 c. chopped nuts

Combine flour and milk in saucepan and cook over LOW HEAT until thick, stirring constantly. Cream the margarine, shortening and sugar together for 4 minutes. (Can use all margarine). Add cooled flour mixture and vanilla; beat an additional 4 minutes. Fold in instant pudding mix and nuts - spread on cooled cake.
thanks for these variations.
Okay so this might seem like a stupid question but what is bettercream?

At first when i read a few posts with the word BETTERCREAM I just thought it was a typo on their part but then i noticed alot of people were calling it that, so not everyone is a bad speller haha thats when I figured it out duurrrrr
Wow!
All of these sound delicious. I can't wait to experiment
HipnotiqGlamour, Rich's Bettercreme is a ready made type of frosting/filling. I'm sure if you do a search in the forums you will find more info
I do know that you can purchase it in 2 forms: liquid and whipped.
i was wondering can i use water instead of milk in the flour mixture?
Micnmax thanks for the recipes. I can't get the bettercream either and have been wanting to try it on cupcakes.
I can't get bettercreme either, has anyone tried these recipes?
akgirl10...yes, I have tried the plain version of this recipe & love it!
It's not too sweet and is very fluffy (IMO it's perfect for cupcakes
)
micnmax, did you use it as filling or frosting?
I used it as both...I mixed some homemade Almond Roca pieces to use as filling and flavoured it with some Almond Roca syrup for frosting (I have a pic of the cupcakes in my photos)
it looked good!


I was wondering if i could mix it with blueberry for the filling and if it takes color well. i'm gonna use it for a party tomorrow.
Thanks for sharing these- I can't get Bettercreme in my town either. I'll have to try this on my next cupcakes!
quick question. I noticed one saying that it needed refrigeration what about the other recipes? Can they stay outside or do they need to be refrigerated?

Thanks for sharing those recipes, they sound delicious.
Thanks for sharing. I think these will make a wonderful filling for cupcakes.
so is this recipe kindof like the whipped icing that you can get on grocery store cakes...for example Lowe's Foods?
Great Question. Do these recipes have to be refrigerated?
I just made a batch and it's so good. it's so light and fluffy, not too sweet. thanks!
I think I'm going to try them today- it's actually cool enough this morning I can bake before it gets too hot! If anyone finds out about the refigeration I would love to know. Thanks!
this is a pic of the cupcake i frosted using the lemon recipe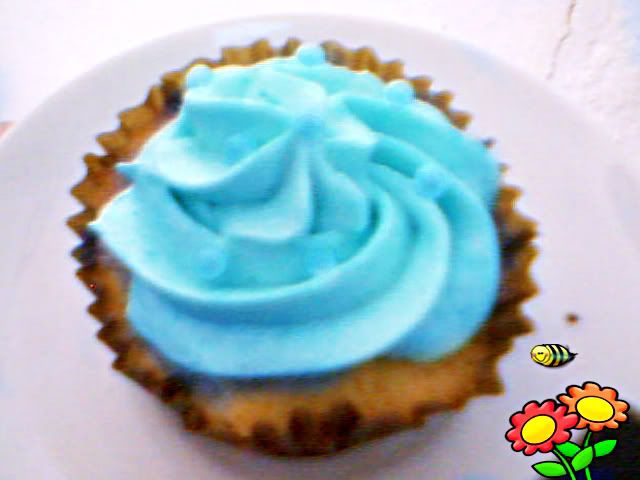 cupcakeshoppe,

Beautiful cuppy and it looks yummy too. How did it taste?
it tasted really good. i like that it's light and fluffy. not too sweet
and very lemony. i love lemon! that's a white chocolate sour cream cupcake with blueberry filling. so the cupcake was quite dense and the frosting was light. complimented it very well.
great! I've been looking for this as well, I really love that light taste of the grocery store icing, but would like to be able to make my own w/o all of the additional preservatives. thanks so much!
Well, I goofed!

I made the top recipe on Saturday, stuck it in the fridge, intending to make cupcakes later in the day.

And it is still there!

If I can find time tomorrow to make cupcakes, would the filling still be okay?