My Stuffed Strawberries (new method), Photos Included
Ok so all this talk about stuffed strawberries made me want to make my own and I thought of a new way to do them with a lot less hassle than trying to cut a piece of the strawberry out! I made my cheesecake and let it set about halfway, so it was stiff but not yet set (not runny anymore) and I took a syringe that I got from the pharmacy with one of my kids meds that we never used, it had a long curved pointy tip and I filled the syringe with the cheesecake mix and I poked it right into the side of the strawberry and filled up the hollow inside, no need to cut a hole or anything! It worked like a charm and tasted AWSOME!!! Also with this idea if you want to make a REALLY COOL treat you can lift up the leaves and poke the syringe in at the top and when the leaves lay back down they cover the hole, no need to dip and hide your insert spot and when you bite in you find a surprise, will leave people wondering how in the world you got the filling in there!

I took photo sof the syringe I used to fill the berries if anyone is interested to see I can post the photos.
That is a really neat idea!! Kudos!!
I would be really interested to know what type of syringe you used! This sounds like a GREAT idea!
ok here are the photos of the berries I made and the syringe (oh and excuse themessy counters lol, I had already done like 6 strawberries before I decided to get the camera out.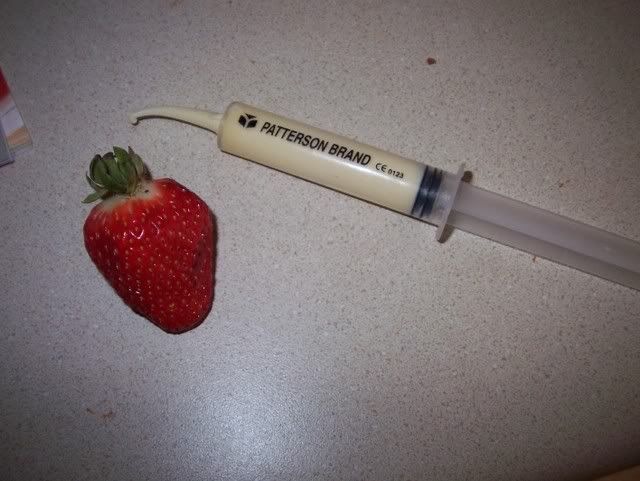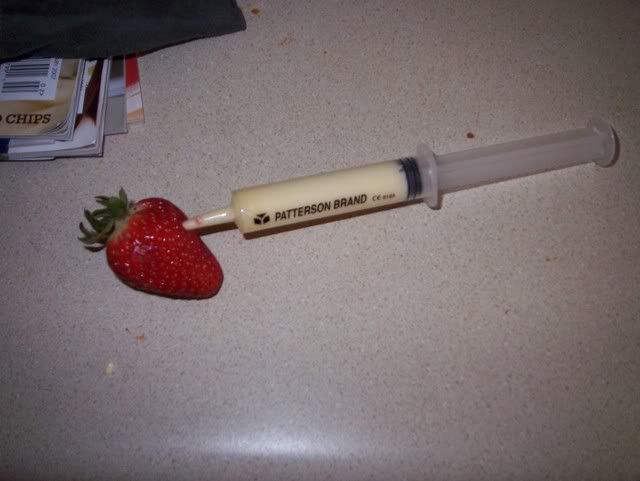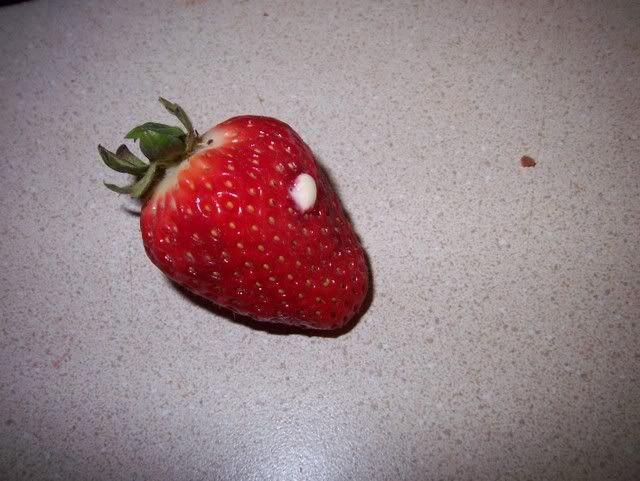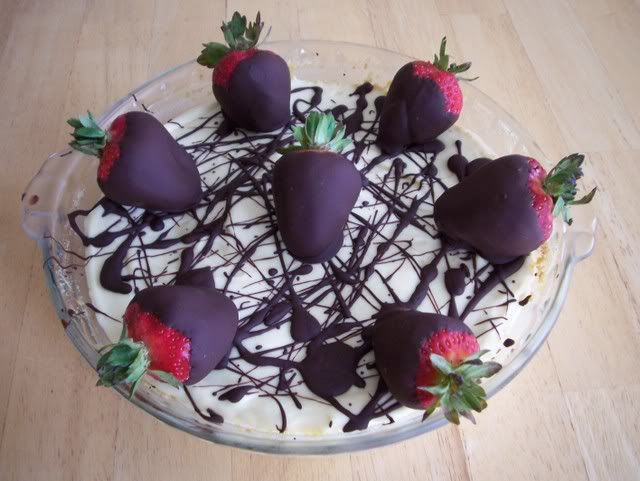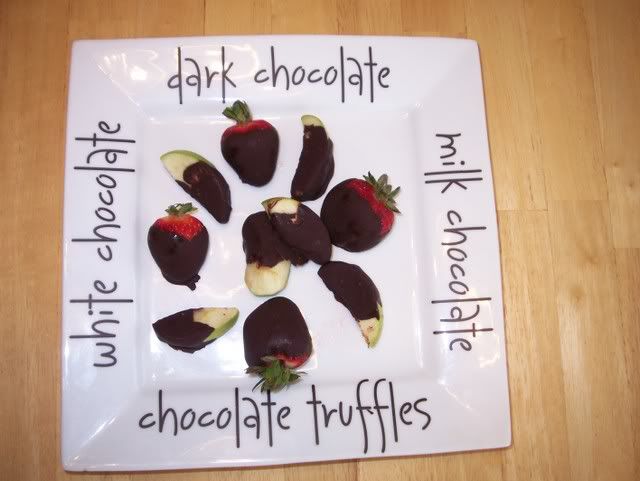 great idea thanks for posting pics
What a smrat idea, thanks for sharing.
That is such a GREAT idea!!!! Thank you so much for sharing it with us!!!!!
thanks for posting! i think i'm gonna try these with chocolate ganache though.
Wonderful Idea!!

Oh and the chocolate Ganache! O MY God!!!!! You guys are great!!

Linda
Amandapanda you are a genious. i would never have thought of that. I need to do to the store and see if I can find the syringe. Thank you for sharing.
My daughters and I just drooled all over my laptop! lol Those look scrumptious and what an awesome idea with the syringe! I love cheesecake so I'll have to try that but I think the chocolate ganache idea is inspired too! (trying to not lick the screen)
what is the cheesecake mixture made of. any cheese cakes I have made have been baked.
If you want to make it easier or don't have the time to make your own cheesecake, try philly's ready to spread cheesecake batter, you can even flavor it with all those neat creamers, like white chocolate, or blueberry cobbler by coffee mate
What a neat idea! Thanks for sharing and they look delicious! I'm going to have to find a syringe and try these scrumptious strawberries!
oh we used no bake cheesecak for this, baked will work too just need a larger hole on the tip to squeeze it out
They look awesome! I can't wait to try these...I've got to find a syringe.

Justine
Ok i need to know where to get that syringe from? i bought one the tip is very different and it made it difficult to stick the strawberry and push the ganache in. mind you the ganage was nice and soft, not runny but not supper stiff.
the syringe came in a bottle of meds a long time ago that we never used lol sorry I can't be of more help ... also the tip was a little too small to push out the liquid so I had to cut some of the tip off to make the hole bigger ... maybe you can do that?
no i can't with the one i have. the tip is very small as is. I also tried using a bismark tip and was not easy. maybe w/the bismark the "stuffing" needs to be much softer.
I tried this last night, too. It was yummy, but I wanted to be able to get more cheesecake inside than what the small hollow allows. I'm brainstorming other ways to do this...
I took a pic of the way I cut them out when I made them , but dummy me forgot to take a pic of them with the filling.

I piped the filling in with a bag and a large tip, you would never know they were filled.

The finished berries are in my photos.


Needed to make some for tomorrow anyway so I filled a few real quick. I used Tip #12.

Boy do they look YUMMY! I'm going to make some for my DH's birthday party. Thanks for the info.
Can't you do the same technique with a decorator bag and a #3 tip?
I was going to try to do these with a marinade injector we never use for a a party this weekend. Does anyone think the injector would work? It has two big ports at the end of the needle. Also, that's a good idea about adding the coffee creamers to the cheesecake. I've got plenty on hand.